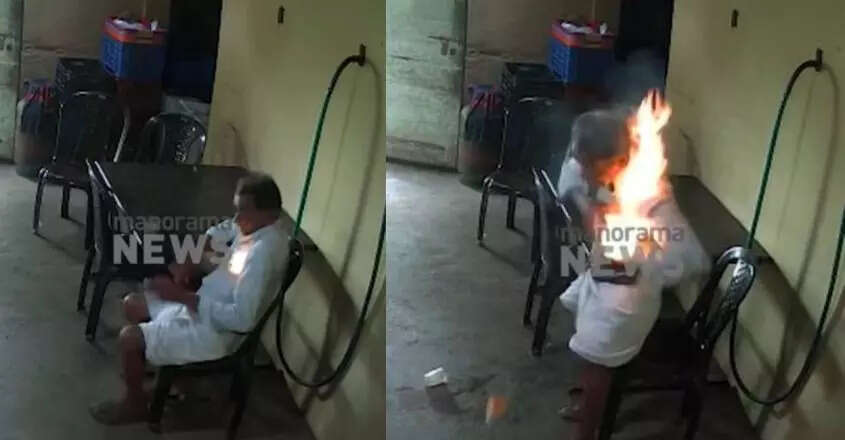 A 76-year-old resident of Marottichal in Kerala narrowly avoided disaster when a mobile phone kept in his shirt pocket suddenly exploded. As reported by Manorama News, a man named Eliyas escaped unhurt when a battery of a mobile phone heated up and exploded.
According to the report, while enjoying tea at a restaurant, Eliyas experienced a terrifying incident as his mobile phone unexpectedly exploded and burst into flames while tucked away in his shirt pocket. The publication has obtained CCTV footage that vividly captures the moment the phone ignited, prompting Eliyas to frantically extinguish the fire.
The report also mentions that it is a Rs 1,000 mobile phone. It is important to note that no branded phone comes under Rs 4,000 from a reputed brand. So, it is quite clear that the mobile phone which caught fire was not a reputed smartphone brand. Also the phone did not have any warranty.
"The phone has exploded like a palm leaf cracker, and it could have been a major disaster. By the grace of God, my life was saved. The restaurant staff was also unhurt. As of now, I'm not thinking of filing any litigation," said Eliyas.
The lithium-ion battery in smartphones is a primary factor behind potential explosions, particularly when it heats up during the charging process. Therefore, it is strongly recommended to avoid using the phone while it is being charged. If necessary, it is advised to disconnect the phone from the charger before use.
8 year-old girl died in mobile phone explosion
This is not the first incident of mobile explosion in Kerala. Recently, an eight-year-old girl named Adithysasree from Thiruvilvamala lost her life in the incident. Media reports suggest that the mobile phone she was using is believed to have exploded. Following the incident, a team of local police officials has initiated an investigation, with the assistance of a forensic team.