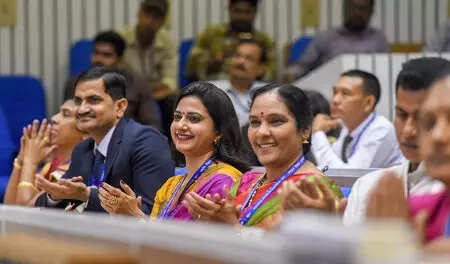 Mumbai: The recent Quran Meet-2023 by Al-Quran Academy, Kairana (UP), in collaboration with India Islamic Cultural Centre (IICC), New Delhi meticulously and beautifully showcased the Quranic universal message of peace, justice and harmony. Presented by students of the five-year-old Academy, the performances held at the packed auditorium of the IICC, hammered home the point that the
Quran
carries revealed words of the creator and the revealed book is not confined to one community or one age or time. God addresses humanity as 'O, mankind' and not as 'O, Muslims', thus underlining the fact that the divine guidance is for the entire humanity and not for Muslims alone.
Explaining the conference's theme 'Quran Beyond Religion: Discovering Quran's Universal Themes', Al-Quran Academy's founder-president Mufti Athar Shamsi said that Muslims failed in taking the universal message of the Quran to larger humanity. "The message of the Quran must be seen in the global perspective. God's message enshrined in the Quran was not confined to one community. Our outlook should be of 'O, mankind' as the Quran addresses the issues of entire humanity," said Shamsi. "It is with this purpose that we have organized this meet. We let the students plan and execute it to showcase how the Academy prepares the next generation of experts who will tackle the issues in the light of Quranic guidance."
Shamsi added that, much before the world began talking about issues like global warming, climate change, rising sea levels, the Quran discussed these issues over 1400 years ago. He stressed that no community had monopoly over the Quran and it is in the interest of all that the Quran is understood as a book of guidance for the global community and not restricted to one community and treated as a mere religious book.
Guest of Honour Dr F Faridasar, Cultural Counsellor at Embassy of Islamic Republic of Iran, expressed his huge happiness and joy that the Academy took such an important initiative.
He reiterated the Quran's commandment that the entire humanity was created from one man and woman and the differences are only to identify themselves. He said he was delighted that students had presented the Quran's message in a novel style, capturing the essence of the Quranic commandments and the Prophetic message. He said that, out of 241 times when the Quran addresses people, it mentions 'O, Mankind' 20 times.
Maaz Tahir, a student of the Academy, said that the conference was aimed also at breaking the narrative that the Quran addresses Muslims alone. He emphasized the need to understand and spread the universal values the revealed book carries.
Chief guest and president of IICC Siraj Quraishi welcomed the guests and thanked Shamsi and the Academy's students for their efforts to make the message of the Quran simpler for the people.
Through brief performances, the students explained what are the virtues of true Muslims (momins) and how Muslims who deviated from the Quranic principles and values face problems.
Vice Chancellor Jamia Hamdard University Abshar Alam said that his university had established a department to carry out research in Quranic and Prophetic medicines.