ROHTAK
: Abuzz with activity round-the-clock the state-of-the-art reading halls at Rohtak's Maharishi Dayanand University campus here have gradually turned into favourite stamping grounds for the students, especially the female students from the state's rural areas lacking easy access to such spaces elsewhere.
With a capacity of nearly 2500, these reading halls, equipped with internet connectivity, remain crowded with hordes of students squatting on the floor, besides occupying the limited number of chairs, and their noses buried deep into the books.
For students like Shweta, a law student hailing from the nearby village of Titoli, these library reading halls are nothing short of a godsend.
Lacking a conducive study environment at home and unable to afford the expenses of private libraries, she finds solace and opportunity within the university's facilities. "Kuch kar ke dikhana hai," she asserts, emphasizing her unwavering determination to prove herself.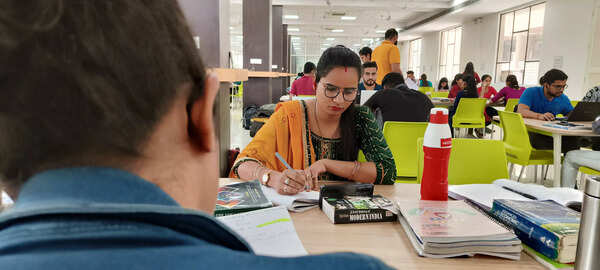 Simultaneously preparing for both the judiciary and civil service examinations, Shweta cherishes the availability of free offline and online books, enabling her to relentlessly pursue knowledge. She enthusiastically notes that students are studying diligently around the clock with some for competitive examinations while others for their Ph.d exams within the walls of the library.
Manshi, a B.Tech student at MDU, devotes a remarkable eight to nine hours each day to her studies within the library. Balancing her course lectures and preparations for the center level jobs examination, she acknowledges the presence of numerous other female students sharing similar aspirations. Together, they engage in discussions, exchange knowledge, and evaluate their respective levels of preparedness over cups of tea in the adjacent canteen.
Meenakshi, a Pharmacy student and a hosteller from Rewari district, emphasizes the reverence attached to the library reading halls among ambitious students aiming for competitive exams.
Cracking jokes outside but once varsity students step into this hallowed space, they transform into voracious readers, claims, Meenakshi. Meenakshi herself is preparing for the GPAT exam and finds inspiration in witnessing hundreds of students absorbed in their studies, each immersed in their own realm of knowledge.
Satish Malik, the Librarian at MDU, expressed his satisfaction with the growing popularity of the library reading halls, particularly among rural female students.
He noted, "More than 65% of those utilizing these facilities are girls from rural areas." To meet the surging demand, the university recently constructed an ultra-modern air-conditioned reading hall, inaugurated by chief minister Manohar Lal on February 15.
Professor Rajbir Singh, the vice-chancellor of MDU, announced plans to dedicate a fully furnished reading hall worth crores exclusively for female students within their hostel compound. This facility will enable them to continue their studies even after regular hours.
"This is not the end but a new beginning of varsity students spreading their wings in all domains and careers. The varsity has grand plans for girl students to empower them academically and professionally", VC added.