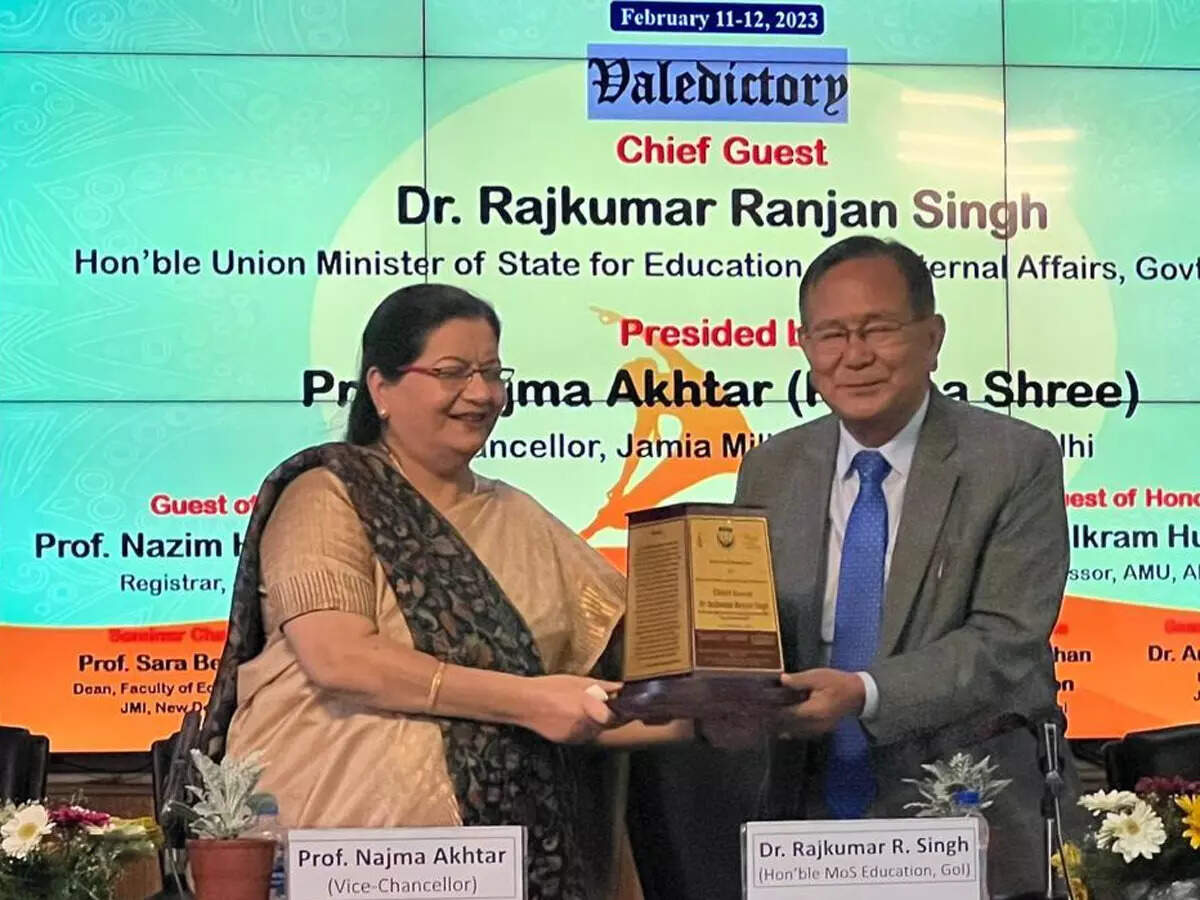 NEW DELHI: Minister of State for Education and External Affairs Dr. Rajkumar Ranjan Singh praised JMI for its teaching and research work. He said that the institution's greatness is reflected in different national and international rankings. He congratulated, the Vice-Chancellor Prof. Najma Akhtar and the entire Jamia fraternity. He also said that the theme 'National Seminar on 'Bharat: Vishva Guru in Yoga Education' of the seminar is very apt in the present scenario as it highlights that Bharat is a Vishva Guru as far as teaching of yoga is concerned.
Prof. Najma Akhtar, the Vice-Chancellor, JMI congratulated entire organizing team and praised the efforts made by the department to organize an ICSSR Sponsored National Seminar on Yoga Education.
Guest of Honour of the function Prof. Ikram Hussain said that we can only regain our supremacy in world by practicing yoga and yoga teaching.
Prof. Nazim Hussain Al-Jafri in his Guest of Honour Address congratulated the organizing team for successfully organizing the mega event.
Seminar Report was presented by Prof. Naheed Zahoor, Seminar Director and Head of Department, who reported that 64 papers were presented in 8 scientific sessions which were attended by delegates from all over India.
This seminar witnessed delegates from Ladakh, Jammu & Kashmir, Punjab, Haryana, Uttarakhand, Uttar Pradesh, Bihar, Chennai, Maharashtra, Kerala, and Manipur.
At the biggening Dignitaries and Guests were welcomed by Dr. Mohd. Faijullah Khan, the Organising Secretary of the Seminar and the Vote of Thanks was presented by Dr. Arif Mohammad the Convener of the Seminar.
The Inauguration Ceremony of the Seminar was held on February 11, 2023 which was attended by more than 200 delegates and scholars across India. The Chief Guest of the ceremony was Prof. M.L. Kamlesh, Former Principal of LNCPE, Thiruvananthapuram, author of 25 books on Physical Education and Sports.
The Guest of Honour of the function was Prof. George Abraham, Principal, YMCA College of Physical Education, Chennai, and Prof. Kalpana Sharma, Academic Director, NS NIS Patiala. The Key-note was delivered by Prof. Syed Tariq Murtaza, Chairperson, Department of Physical Education, AMU, Aligarh.
The concept-note was given by Dr. Arif Mohammad convenor of the Seminar and Welcome-note was given by Prof. Naheed Zahoor, Seminar Director. Prof. Sara Begum, Dean, Faculty of Education and Seminar Chair presented her presidential address followed by a vote of thanks by Dr. Farhana Khatoon.