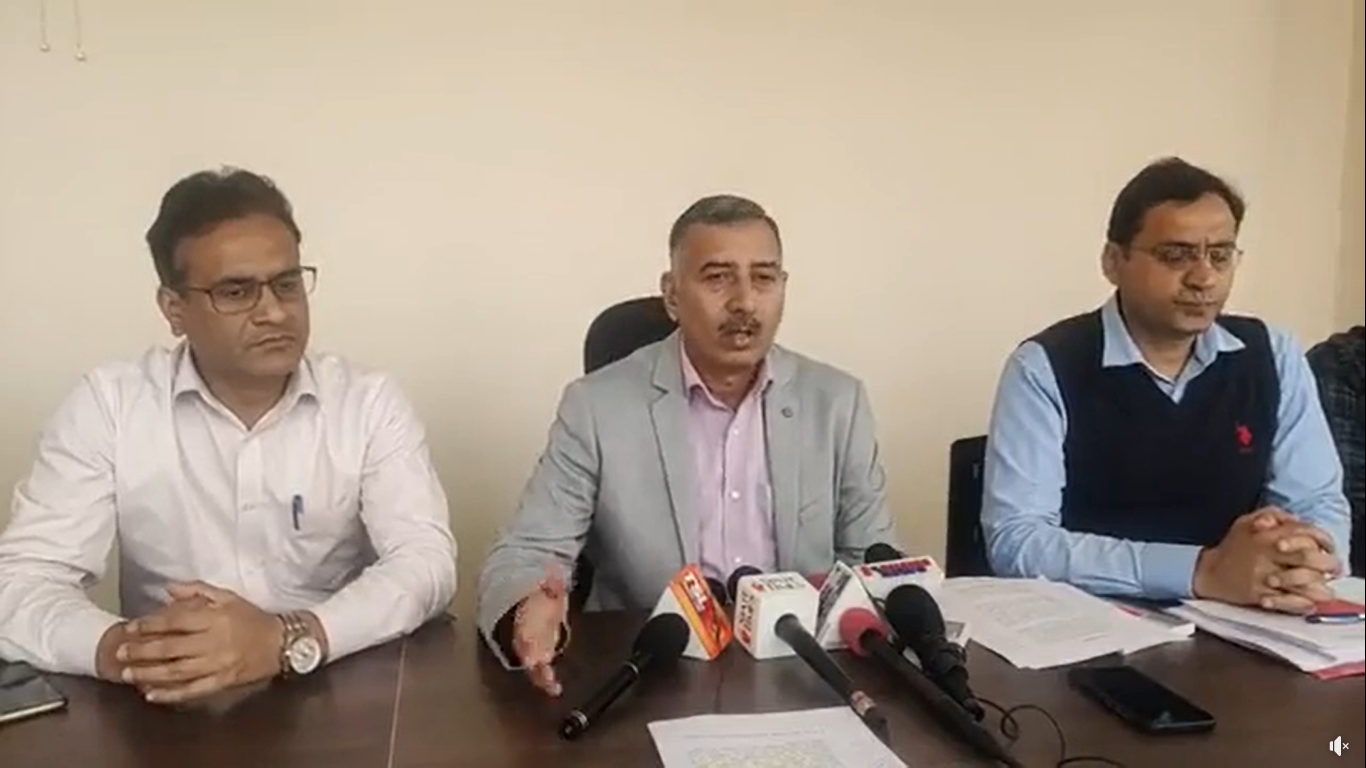 JAMMU, MAR 10: Amid protests over hiring of a blacklisted company for conducting recruitment examinations, the Jammu and Kashmir Services Selection Board (JKSSB) chairman Rajesh Sharma on Friday assured the youth that there will be no compromise on transparency and merit.
Cautioning the job seekers against certain elements trying to malign the process of recruitment by the JKSSB, Sharma said, "The board is aware of their concerns and all efforts will be made to conduct exams in a fair, transparent and secure manner."
"Do not pay heed to rumour mongers and those with ulterior motives, who are only here to disrupt the processes," he said while addressing a press conference here today.
Sharma categorically said, "There would be no compromise on transparency and merit."
"Youth's ability and merit will be respected and strict action will be taken against all those elements who are trying to harm the future of meritorious aspirants," he added.
Sharma said the particular agency is already conducting exams across the country and at the Centre.
Citing various examples he said, "It ( Aptech) has been and is executing prime projects in NTA, CBSE (2023) and other government bodies and has successfully completed many CBT based examinations like UGC NET (2020, 2021), JNU Entrance Examination (JNUEE 2021), Delhi University Entrance Test (DUET 2019, 2020, 2021) wherein 52 lakh candidates have participated," he said, adding the agency also conducted Income Tax (2022), RPF Jhansi (2022), Railway Vadodara (2022) exams."
About hiring of Aptech Limited, JKSSB Chairperson said, "The agency is not blacklisted as on date, though it was blacklisted in Uttar Pradesh in May 2019 for a period of three years that expired in May 2022.
"The agency has qualified the parameters prescribed for tendering and was the highest bidder on quality-cum-cost based selection (QCBS) mode. There are specific rules provided in General Financial Rules 2017 of GoI to deal with debarment/ blacklisting," he said.
"I would like to clarify that blacklisting is a restrictive term valid for a period, he said and added that it has to be distinguished from disbanding i.E. Permanent blacklisting.
Saying protests seem to be motivated to derail the functioning of the board, he said, "It is not that one or the other person will decide blacklisting, let the court give judgement. It cannot be decided by a few on a road or in a rotary.
"These persons levelling unsubstantiated allegations have clear ulterior motives," he claimed.
"As far as the allegation against the recruitment agency is concerned, the matter is sub-judice and the high court will take a decision in the matter. The issue will be settled by the law and not by sloganeering. The instant protests seem to be an attempt to influence the high court," Sharma said.
JKSSB Chairman Sharma reiterated that we ( the Board) are committed to conduct exams including those scheduled from March 16 with the highest degree of security.
"Our mission is to uphold the sanctity of the recruitment process, he underscored.