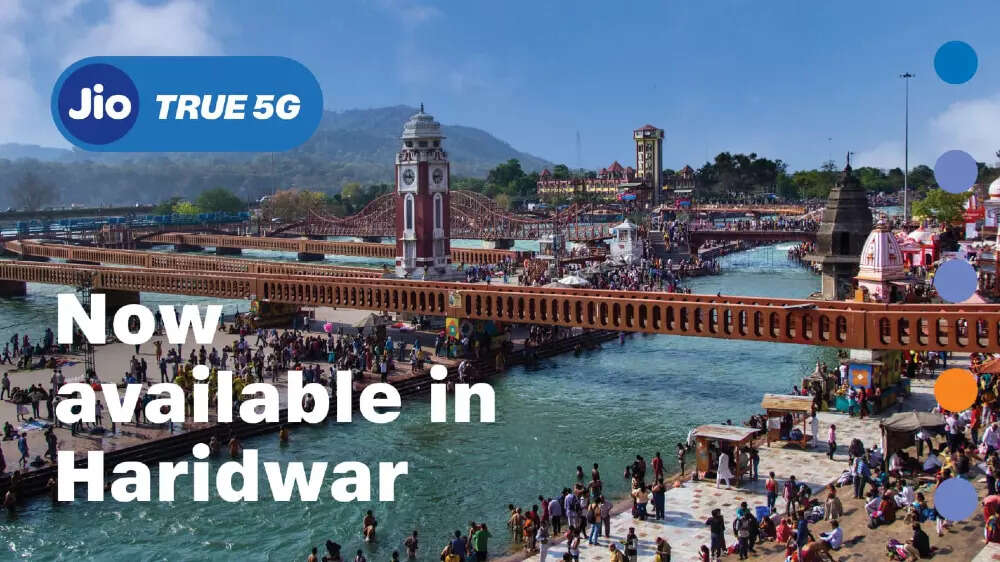 Reliance Jio has launched 5G services in Haridwar. With the rollout of the service, the telco became the first and only operator to launch 5G in the Uttarakhand city. Furthermore, Jio 5G services are now available in 226 cities across the country. Jio users in these cities will be invited to the Jio Welcome Offer, to experience Unlimited Data at up to 1Gbps+ speeds, at no additional cost.
The services have been launched from Har Ki Pauri, which means the feet of Lord Vishnu and is one of the most famous ghats on the banks of the river Ganges. It is a landmark of the holy city of Haridwar and is the second city in the state after the capital city Dehradun to get Jio True 5G services.
"It is a matter of great pleasure that the 5G services by the Jio network, which started from Dehradun city of Uttarakhand, has been extended and launched in Haridwar today. With the beginning of this service, not only the people of Haridwar, but also the pilgrims visiting the Holy city of Haridwar from the country and abroad, including the pilgrims visiting for Char Dham yatra in the near future will benefit," said Pushkar Singh Dhami, chief minister of Uttarakhand.
"The launch of 5G services by the Jio network ahead of the commencement of Char Dham Yatra is commendable. I hope Jio's 5G network will soon be available in all the main towns of Uttarakhand. This will be a true representation of the state as a Digital Devbhoomi in the upcoming G-20 Summit events scheduled in Rishikesh," he added.
Jio network in Char Dham
Jio currently offers network coverage in the state – from Dehradun to Mana, the last Indian village in Uttarakhand towards the Indo-Tibet border. Jio is also present in all the Char Dhams, on the trek route of Kedarnath Dham and at Hemkund Sahib Gurudwara.
"We are excited to commence Jio True 5G in Haridwar. Jio True 5G will usher in a plethora of opportunities and enriched experiences for the citizens of Uttarakhand. We are grateful to the chief minister and the state government for their continuous support in our quest to digitise Uttarakhand. We would also like to thank all the members of Shri Ganga Sabha, Haridwar for facilitating the launch of 5G services from one of the most sacred ghats of our country, Har Ki Pauri," a Jio spokesperson added.
Jiogames cloud beta launched in India, how to sign up and play games