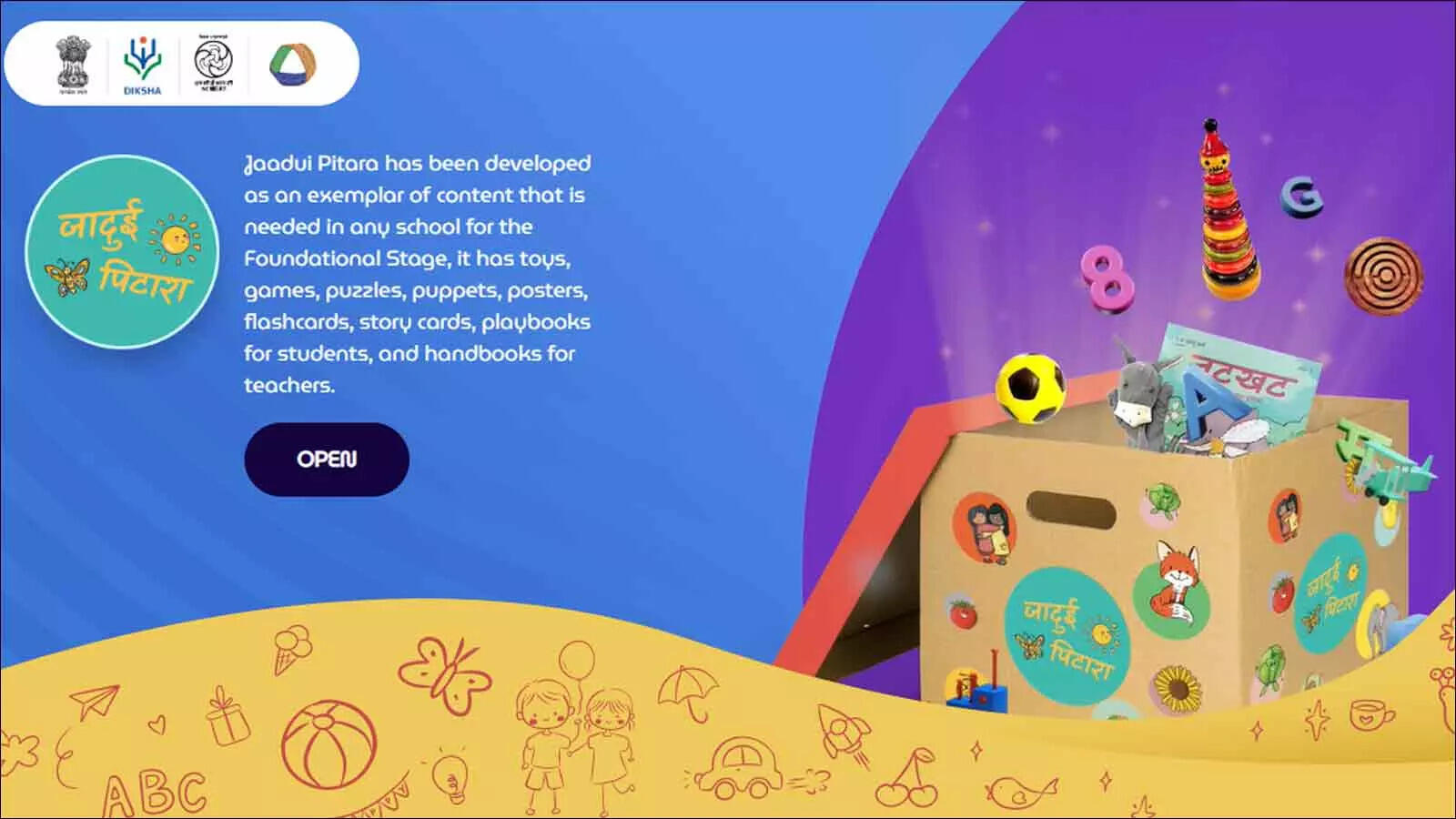 Available for download on Diksha portal, this will help rural schools and anganwadis
To make schooling interesting and boost the play way method of learning in the initial period,
Ministry of Education
launched Jaadui Pitara. Available for download on the Diksha portal, the new module helps students of 3 – 8 years learn by using toys, puppets, puzzles, posters, flashcards, worksheets, and colourful storybooks. This module will bring learning uniformity at the pre-primary education level.
"The objective is to offer a joyous learning experience, which will develop the basic reading, writing, and mathematical skills in the long run. Little children will learn the basics in a fun-filled classroom setup through games, stories, dance and group activities during the foundational years. The play-based pedagogy will build curiosity among students which will help in increasing curiosity, innovation and holistic development. Jaadui Pitara will be an integrated and formal approach," says Sudha Acharya, chairperson, National Progressive School Conference (NPSC), an association of 122 Delhi schools.
As per National Education Policy (NEP) 2020, the current 10+2 structure will be replaced by 5+3+3+4 stages of education structure. The foundational stage, denoted by 5, constitutes three years of preschool or anganwadi (for rural areas) education and classes I and II.
"The newly launched kit will improve learning outcomes as it provides standardised content and teaching-learning material developed by National Curriculum Framework (NCF). These are cost-effective, as schools, Anganwadi centres, and Balvatikas can download them for free from the DIKSHA portal or mobile app," says Acharya.
This will prepare students to take admission to class I so that when they enter school, they are ready to attain their learning curve. Sushruti Sachdev, Senior Project Lead, Central Square Foundation (CSF) says that Jaadui Pitara will help schools in rural areas and anganwadis, as they will not have to depend on additional books and educational toys.
"In most of the rural government schools, admissions are offered from class I onwards not from pre-primary classes. There are a handful of expensive private schools offering Early Childhood Care and Education (ECCE) at Montessori and Kinder Garten levels. Thus, most schools admit students to class I. The continuity of learning among 3-6-year-old students breaks in between. By introducing the learning box, the intent and attempt to build that continuity is taken care of," adds Sachdev.
The learning box is available in 13 different languages and can be downloaded by teachers as per their requirements, based on the state board, medium of language, and class level requirement. "Scientific studies confirm that students learn better in their mother tongue. Multiple languages will help the students learn their mother tongue and the second language as they move to higher classes."