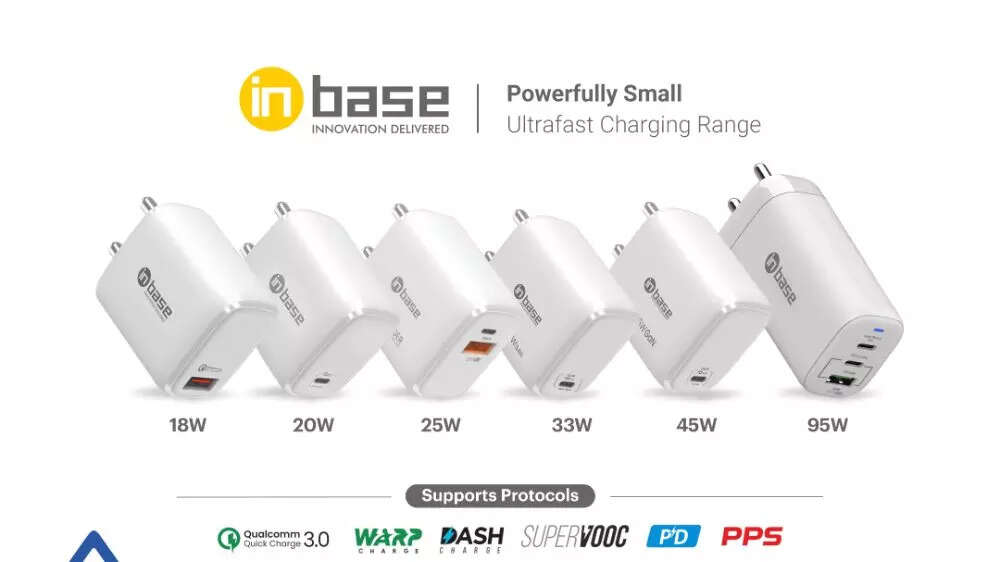 Inbase has launched seven new chargers under its Ether portfolio. The latest range of chargers are claimed to deliver a fast charging experience. The company said that the chargers are small, lightweight and are travel-friendly with support for multiple protocols across different devices.
These chargers support multiple protocols, like WARP, QC, PD, PPD, SUPERVOOC, DASH, that ensure fast charging compatibility with different devices. These 7 products offer charging speeds from 18W to 95W.
The P201, P251, Q181, and SV301 are compact fast chargers. The P451, PSV501 and PSV951L are fitted with GaN technology The PSV951L is certified to charge laptops that support Type-C charging and offers up to 95W charging speed.
"Our new range of charging solutions is developed keeping in mind the fast-charging needs of our community. We want to make life seamless and hassle-free as long as charging is concerned. We endeavor to be the one-stop charging solution that provides top-notch technology that is made for India," said Nitesh Kumbhat, Co-Founder, Inbase.
These chargers also offer multi-level protection for the safety of the devices they are connected to.
Price and availability:
The chargers are now available for purchase at retail outlets as well as online on Amazon, Flipkart, Inbase websites. Here are the prices for these chargers:
Ether Q181
18 Watt QC 3.0 Fast Charge Enabled with USB output
Introductory price: Starts at Rs 299
Ether P201
20 Watt QC 3.0 Fast Charge Enabled with Type C output
Introductory price: Starts at Rs 499
Ether P251
25 Watt multiple protocol QC+ PD charging and supports Vooc, SuperVocc, PPS, and PD
Introductory price: Starts at Rs 499
Ether SV301
30 Watt multiple protocol charging with USB output and supports super Vooc, Warp and Dash
Introductory price: Starts at Rs 499
Ether P401
45W charging with GaN technology and Type C output and supports multiple protocols
Introductory price: Starts at Rs 899
Ether PSV501
50W charging with GaN technology and Type C and USB output and supports multiple protocols
Introductory price: Starts at Rs 899
Ether PSV951L
Massive 95W charging with GaN technology, 2 Type C and USB outputs and supports all protocols
Introductory price: Starts at Rs 2,599