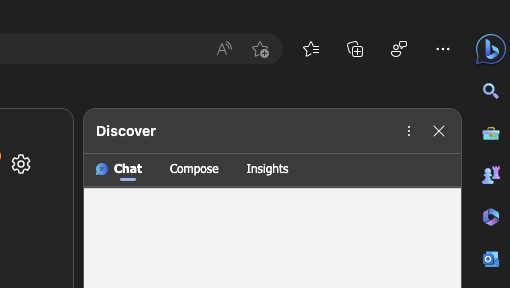 Earlier this month, Microsoft announced the OpenAI's chat model integration with its Bing and Edge web browser. We have already reported that the company has started extending early access to all the new Bing features to select waitlist users. Along with this, Microsoft has also started rolling out the updated Edge web browser with AI features in the Insider Preview.
If you are looking to download the new Edge web browser to try out the new AI capabilities, here's how you can do that.
Pre-requisites:
Active Internet connection
Windows 11 or Apple Mac with the latest operating system
Microsoft account
How to get the new Edge web browser
Microsoft hasn't yet rolled out the new AI features on Edge in the stable build. However, the company has added it to the Edge Dev version which allows users access to the new Bing integration before other users.
So, to use the AI features on Edge, you'll need to download the Edge Dev version, here's how you can do it.
Steps
1
Head to Microsoft Edge's <a href="https://www.microsoft.com/en-us/edge/" target="_blank" title="https://www.microsoft.com/en-us/edge/">official website</a> — https://www.microsoft.com/en-us/edge/
2
Now, click on Download button at the top of the screen
3
Scroll down and look for Edge Dev version and hit the download button placed in front of it
4
An installer file will be downloaded. Now, click on the installer to install it on your system
5
Once down, login into the web browser using your Microsoft account
6
After this, click on the new Bing icon at the top right corner to access the new AI-based features
What all you can do with Bing integration on Edge
Microsoft has explained that the new Bing and AI integration is designed to copilot users and help them to get more information easily. For instance, it offers the Chat option which allows users to run a quick search and Bing answers it comprehensively based on web searches run by it. Apart from that, it can also summarise a report or tell users key takeaways from the page that's currently open. In addition, it also has a dedicated Compose button which allows users to create a post based on some topic provided by the user.
Conclusion
The updated Edge is here but it is still in development mode. So, accessing it requires downloading the Dev version of the Edge browser. Also, given that it is in development, there may be some bugs and issues with the web browser. So, if possible don't make it your primary web browser.