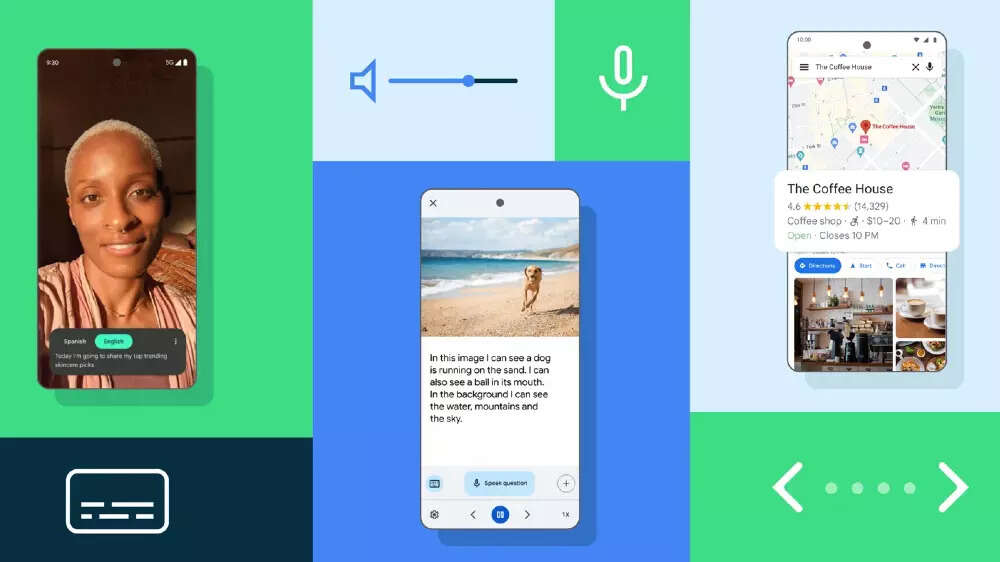 Google has announced AI-powered accessibility updates to various apps marking the Global Accessibility Awareness Day. These include a feature using a visual language model to describe images without alt text in Lookout, a better text-to-speech experience which will be coming to Wear OS 4 and expansion of Live Caption on Android.
Lookout's new Image Q&A mode
Google launched Lookout in 2019 and the app is designed for the blind and low-vision community. It uses AI to help people undertake tasks such as sorting mail and putting away groceries. Google said that a new feature, called "image question and answer", within Lookout is launching for a select group of people.
The feature can process the image and provide a description of it. Then people can use their voice or type to ask questions to get a detailed understanding of what's in an image.
Wheelchair-accessible places on Google Maps
Google will now mark wheelchair-accessible entrance by the wheelchair icon on Google Maps. The feature will help people to know before they go whether the place they are going to has a step-free entrance. Furthermore, users can find more information, like wheelchair-accessible seating, parking or restrooms, in the "About" tab so you can plan visits with confidence. Google Maps also allows users to add missing accessibility information to the listing.
Live Caption for more people
Live Caption feature uses AI to create real-time captions for anything, including videos, that has sound and is playing on your phone or on your PC while using Google Chrome. Google will soon roll out updates "to expand the availability of Live Caption to more Android devices and people."
This includes a new captions box that optimises the Live Caption experience on Android tablets.
The Live Caption for calls feature that allows users to type back responses during calls and have the response read aloud to the other caller is now rolling out to Pixel smartphones, including Pixel 4 and 5, and a few Android devices such as select Samsung Galaxy phones. The feature will also get support for French, Italian, and German languages.
Accessibility updates on Wear OS 4
Later this year, Google will introduce Wear OS 4 with a new text-to-speech experience "that is faster and more reliable." The company recently rolled out two new sound and display modes to improve watch customisation.
Improved accessibility on Chrome browser
Google Chrome will now detect URL typos and suggest websites based on the corrections. This feature is available on Chrome desktop and will roll out to mobile in the coming months.
"This increases accessibility for people with dyslexia, language learners, and anyone who makes typos by making it easier to get to previously visited websites despite spelling errors," Google said.