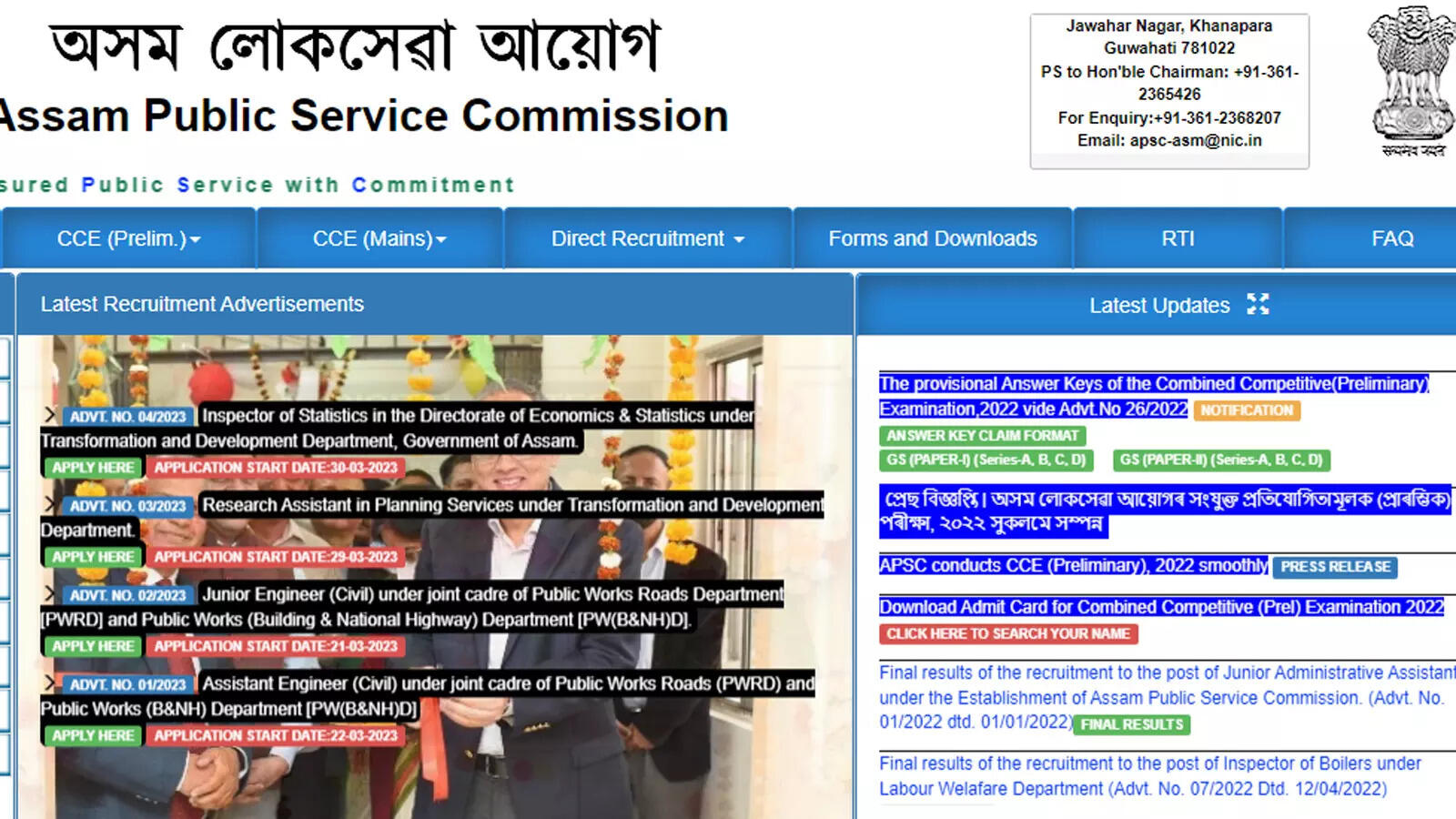 APSC CCE Answer Key 2023
:
The Assam Public Service Commission (APSC) has released the provisional answer key for the Combined Competitive Examination (CCE) 2023. The answer key has been released for both Paper 1 and Paper 2. The CCE Prelims exam was conducted on March 26, 2023, at 132 venues across 31 centres/districts in Assam.
The papers, Paper 1 and Paper 2, were held for a total of 400 marks. The exam is a crucial step for candidates who aspire to work in various state departments. There are a total of 913 vacancies available in different departments, and a massive 74,368 applications were received against these vacancies. Among the applicants, 42,320 are male candidates, 32,045 are female candidates, and three are transgender candidates who took the examination this year.
The provisional answer key is an essential document for candidates as it helps them to evaluate their performance in the exam. With the help of the answer key, candidates can calculate their expected scores and assess their chances of qualifying for the next stage of the examination.
APSC
CCE Prelims answer key 2023:
General Studies paper 1
APSC CCE Prelims answer key 2023:
General Studies paper 2
It is important to note that the answer key is provisional, and candidates can raise objections against it if they find any discrepancies. They need to submit their objections in the prescribed format within the stipulated time frame. The APSC will consider the objections raised by the candidates and make necessary corrections before releasing the final answer key.
Overall, the release of the provisional answer key is a significant step in the APSC CCE 2023 recruitment process. Candidates are advised to check the answer key carefully and raise objections if necessary.
Steps to check and download APSC CCE Prelims answer key 2023
Here are the steps your wife can follow to check and download the APSC CCE Prelims answer key:
Step 1: Visit the official website of the Assam Public Service Commission (APSC) at apsc.nic.in.
Step 2: Look for the "Latest Updates" section on the home page and click on the link that says "Answer Key for APSC CCE Prelims Exam."
Step 3: A new page will open with the answer key in PDF format. You can download and save this file on your computer or mobile device.
Once the answer key is downloaded, you can compare answers with the correct answers given in the key to calculate your expected score in the exam.