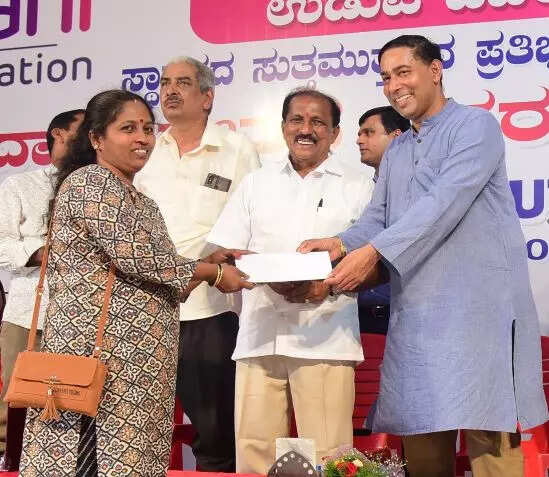 UDUPI
: The CSR wing Adani Foundation on Saturday distributed a scholarship worth Rs 20 lakh to the identified meritorious students residing in 12 Grama Panchayats around UPCL plant.
As many as 755 students received the scholarship benefits in the programme organized at Buntara Bhavan in Padubidri. Lalalji R. Menon, MLA, Kaup, presided over the programme. Kishore Alva, President and Executive Director of Adani, Jayanth Kumar, President of Yellur Grama Panchayat, Ravi Shetty, President of Padubidri GP, Kasturi Praveen, President of Thenka GP, Jyothi, President of Bada GP, Gayathri Prabhu, President of Palimaru GP, Mamata Divakar Poonja, President of Balakunje GP, Sharmeela, President of Majoor GP, Latha S. Acharya, President of Kuthyaru GP, Shobha Bhat, President of Belapu GP, Yogini Shetty, President of Mudarangadi GP and Saritha Shetty, Vice President of Inna GP were present.
Alva said students who have secured 85% and above in their academics during the academic year 2021-22 in SSLC, ITI, PUC, Diploma, Graduation, Post-Graduation, Engineering and Medical courses were honoured with the scholarships.
Alva added with the motivation and inspiration by founder Chairman Gautam Adani, is organizing 'Udaan' programme under its focus area of education. Under Udaan, more than 15,000 students have been so far invited to UPCL plant, facilitating them to gain knowledge in their academics and the programme aims at inspiring the students to have a vision in their life.
Lalalji R. Mendon advised students to take the benefit of this scholarship and aim for higher education and work for the development of the society. Jayanth Kumar informed that UPCL, during the earlier regime had failed to implement village development works under CSR and had lost villagers' confidence. Now, after Adani took over the UPCL project, it has gained confidence by way of implementing various development works under its CSR in nearby villages.
Ravi Shetty appreciated that though Padubidri GP has not given any land for Adani Group, the GP had received CSR grants every year.